MedTech has huge potential to increase accessibility with Speech Technology and we're thrilled to visit the upcoming Medica trade fair in Dusseldorf, from November 13th to 16th. Medica is a global hub for innovation in the medical technology industry, and we can't wait to share the latest MedTech breakthroughs and trends with you.
Meet with the Co-Founder and CEO of Creoir, Antti Lilja, to explore the fascinating world of Voice User Interfaces (VUI) in Medical Device solutions. Imagine a future where voice commands streamline medical procedures, enhance patient care, and make healthcare more accessible.
Let's connect at Medica and discuss the limitless potential of VUI in revolutionizing healthcare and MedTech with Speech Technology! We're dedicated to driving innovation and progress in the medical technology sector, and we look forward to engaging with fellow industry professionals, sharing insights, and exploring exciting opportunities.
See you in Dusseldorf!
Creoir recently had the honor of talking about Voice AI on ICTOulu's DeepTech Leads technology podcast. In the fast-evolving world of technology, staying at the forefront of innovation is crucial. This opportunity allowed us to share our expertise and insights into the exciting realm of voice-powered artificial intelligence and human-machine interaction.
Creoir is dedicated to pushing the boundaries of what's possible with Voice AI. Our team of experts specializes in developing a cutting-edge voice solution EdgeVUI™ that harnesses the power of accurate voice recognition, and Text-to-Speech solutions. These technologies are transforming the way we interact with our devices, making them more intuitive, intelligent, and user-friendly.
Discovering the Future of Technology with Voice AI
On this technology podcast, we delved deep into Voice AI. We discussed the latest trends, shared success stories, and explored the potential applications of this transformative technology. Our CEO, Antti Lilja, provided valuable insights that shed light on the future of Voice AI and how it is set to revolutionize industries such as smart home automation, medical devices, industrial automation, and more.
Our participation in ICTOulu's DeepTech Leads technology podcast was a fantastic opportunity to showcase our commitment to the world of Voice AI. We invite you to explore the podcast episode to gain a deeper understanding of this exciting technology and how it's poised to revolutionize how we interact with our devices. Stay tuned for more exciting developments from Creoir as we continue to lead the way in Voice AI innovation.
In the video below, you can watch and listen to the whole podcast episode.
Creoir CEO Antti Lilja has participated at the Defence and Security Equipment International (DSEI) in London, UK, and discussed with industry professionals about integrating Voice UI into Defence Equipment.
DSEI is the world's largest fully integrated defense and security hybrid event that brings together the global defense and security sector to innovate and share knowledge featuring over 2800 defence and security suppliers.
"Mission-critical applications need eyes on the tasks and hands are not always free. It has been nice to see the interest towards robust and secure Voice User Interface that we are enabling at Creoir." says Antti Lilja
Creoir showcased the Creoir Offline Voice Solution with accurate speech recognition for AR Glasses at the FutureTech Oulu event organized by ICT Oulu. Thanks to all who visited our stand and tried our demo applications!
In collaboration with Epson and their Moverio AR Glasses, we demonstrated the future of AI as an enhanced User Interface for Augmented and Virtual Reality. Creoir's accurate voice control solution provides the needed help for better accessibility, improved workflow, and smooth intuitiveness of the AR Glasses user interface.
AR Glasses and other smart devices benefit from having Automatic Speech Recognition and Text-to-Speech on the interfaces.
The vending industry and self-service are big beneficiaries of Voice Control, with Voice Ordering enabling more accessible and hygienic control methods. Creoir VP Sales Michael Szücs visited the VENDTRA 2023 trade fair held in the Olympic Park in Munich, Germany.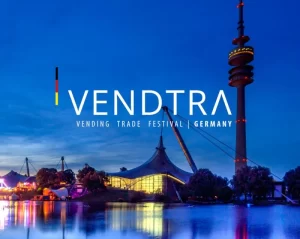 "Good to see that the vending machine industry has an increased focus on implementing smart user experience. Touchless HMIs as well as hands-free Voice UIs like the Creoir Offline Voice Solution are contributing to these trends." Michael summarized his impressions.
Voice User Interfaces provide a hygienic and efficient way to control vending machines, coffee automats, and self-service terminals.
Creoir CEO Antti Lilja attended the Emergency Service & Tech Shows 2023 trade fair held in the NCC in Birmingham, United Kingdom, and discussed the opportunities of Voice Control with the industry professionals.

The Emergency Services Show is an event tailored to the specific needs of the emergency services staff. The Emergency Tech Show is showcasing trailblazing technological innovations to transform the blue light sector.
"Many interesting discussions with manufacturers, suppliers, and workers in the segments of fire & rescue, police, emergency services, medical, and other mission-critical applications.
Again, several different use cases were identified for embedded speech recognition and voice feedback." states Antti Lilja.
Creoir has previously helped several companies in bringing reliable Voice Control to Emergency Tech applications.
For five years Infineon Technologies and Creoir are partnering providing excellent voice technology and voice solutions to the market.
"Our Associated Partner Creoir is an expert in state-of-the-art speech technologies, offers professional services and a solution for easy offline Voice UI integration in various applications such as IoT devices, enabled by XENSIV™ MEMS microphones." states Infineon Technologies in September 2023 Linkedin Post.
"Excellent microphones help to bring voice UI to the edge." says Creoir CEO Antii Lilja. Listen to his full statement on this LinkedIn post.
Integration of offline Voice User Interface (VUI) offers a multitude of benefits for professional products and applications utilizing human-machine interfaces. Adding Voice UI helps to improve workflow efficiency, enables hands-free control of devices, and supports fulfilling sterility requirements. By leveraging offline capabilities, VUIs can fulfill the needs of any digital user interface while addressing data privacy concerns.
Responsiveness and minimal latency of speech recognition
The most significant advantages of Offline VUIs are their responsiveness and minimal latency. With voice prompts processed directly on the edge of the device, users experience near-instantaneous responses, enhancing the overall user experience. Furthermore, Offline VUIs eliminate the need for external internet connectivity, ensuring uninterrupted functionality even in areas with limited or no internet access.
Voice data privacy
Privacy-conscious industries have often faced challenges when implementing VUIs due to data privacy issues associated with cloud-based services. However, Offline VUIs alleviate these concerns by not storing any conversation data and operating solely in response to specific prompts. This privacy-focused design provides users with peace of mind, knowing that their personal conversations remain secure.
The Creoir Offline Voice Solution (OVS) has been developed for easy implementation of state-of-the-art embedded speech recognition and voice feedback in demanding and noisy environments. The solution supports 40 languages and offers professional Speech Signal Enhancement (SSE) to enable the highest accuracy in far-field voice control. The user-friendly Software Development Kit (SDK) provides step-by-step instructions and optimal UI integration helping developers to harness the power of Offline Voice User Interface technology with ease in a short development time.
Offline Voice Solution utilizes the proven speech technologies from Cerence. Creoir has been a Cerence technology distributor since 2021 and helped many companies to have custom voice assistants in professional use.
Creoir – bringing Voice AI on-the-edge.
We thank all the visitors coming to our stand at Automatica 2023, the world's leading trade fair for smart automation and robotics bringing together all key technologies in the technology hub of Munich. Industrial offline voice control had a positive reception from the event audience at Automatica.
At our booth, we showed the Creoir Offline Voice Solution (OVS) hands-free machine control demo with superior noise suppressing working even in noisy industrial environments. Automatica visitors were impressed by the robust operation of OVS' offline voice control and its responsiveness.
Creoir Offline Voice Solution is a suitable solution for the development of hands-free control of industrial machinery and automation tools. With Automatic Speech Recognition and Text-to-Speech, you can build a custom voice assistant to enhance the workflow with complex machinery.
Creoir VP of Sales and Marketing, Michael Szücs was visiting interesting industrial automation events held in Middle Europe, and discussing the potential of voice control in the industry.
"I am grateful for all the interesting conversations at Smart Automation Austria and SPS Italia about the ongoing utilization of Voice User Interface (VUI), voice control, speech recognition, and text-to-speech solutions in industrial automation to simplify complex tasks and boost operational efficiency. Reliable voice operation in noisy environments, as well as on-the-edge privacy, with no audio data sent to the cloud or 3rd party, are critical in this segment." says Michael Szücs.
Smart Automation Austria is held bi-annually in the city of Linz showing the latest automatization solutions, trends, and developments in particular in the focus areas of digitalization, sustainability, and AI.
SPS Italia is the highlight event for the intelligent, digital, and sustainable industry. SPS Italia is the annual appointment to discuss the most challenging issues of tomorrow's industry, recognized as a reference point for the Italian manufacturing sector.